Description
Improve safety with the Ring Floodlight Cam Wired Plus. Experience dynamic 1080p HD video.
Enhance your security system with the Ring Floodlight Cam Wired Plus. Experience the power of active [1080p HD video].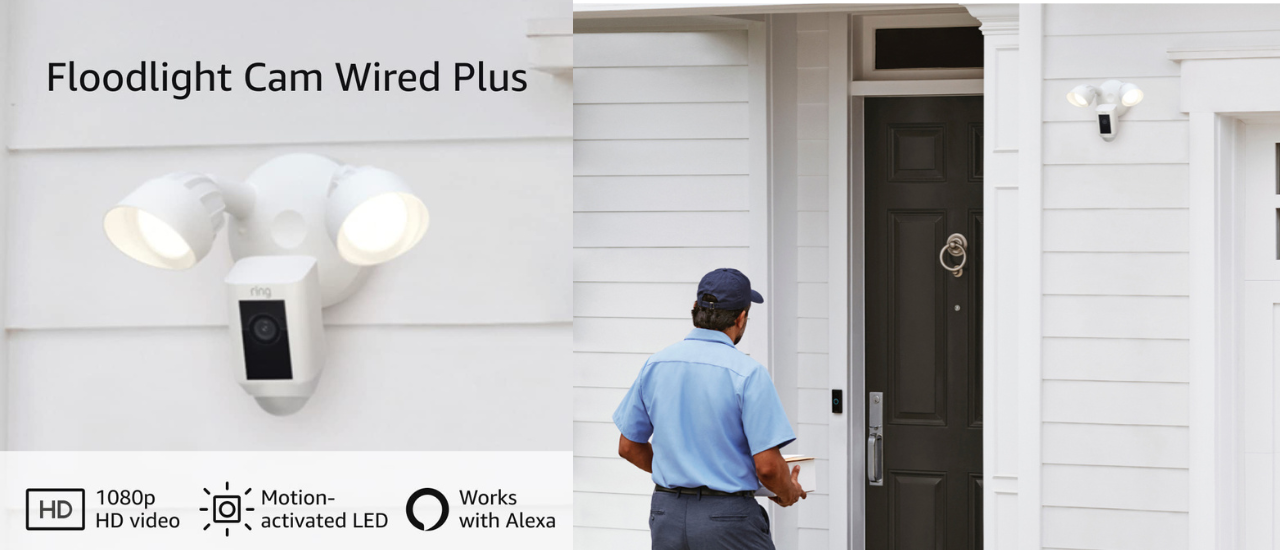 What Is [Ring Floodlight Cam] Wired?
The Ring Floodlight Cam is a security device designed to increase security and surveillance of your [home or property].It combines the functionality of a high-definition camera with an integrated floodlight, providing both video monitoring and outdoor lighting. Here are some key features and functions commonly associated with ring floodlight cams:
HD Camera: The Ring Floodlight Cam is equipped with a [high-definition camera] that can capture video at 1080p resolution. This camera allows you to monitor the area around your property in real-time and review the recorded footage.
Motion Detection: The device has advanced motion detection sensors that can detect movement within a certain range. When motion is detected, [Floodlight Trigger] is triggered to illuminate the area and the camera starts recording. This feature is crucial for deterring potential intruders and capturing any unusual activity.
Two-way audio: Ring floodlight cams often have two-way audio capabilities, enabling you to communicate with anyone near the camera via your smartphone or connected device. May be useful for deterring intruders or communicating with delivery personnel.
Floodlight: As the name suggests, the device has a powerful [built-in floodlight] that can be activated manually or automatically through motion detection. These floodlights provide bright illumination, increasing visibility in areas monitored at night or in low light conditions.
Mobile App Integration: Ring devices with floodlight cams usually integrate with a mobile app that lets you access live video feeds, review recorded footage, and more.
Cloud Storage: Many Ring devices offer cloud storage options for recorded video footage. This allows you to access and review footage even if the [camera's physical storage] is compromised.
Overall, the Ring Floodlight Cam is designed to provide peace of mind to homeowners through a combination of enhanced security, potential [threat prevention] and surveillance, and [outdoor lighting capabilities].
About This Item
"Ring Floodlight Cam Wired Plus" is a comprehensive home security solution, designed to provide advanced surveillance and convenience.
High-Definition Camera: Floodlight Cam Wired Plus's camera captures video in 1080p HD resolution, ensuring clear and detailed footage of your property.
Customizable Motion Detection Zones: Focus on specific areas that are most important to you and trigger motion alerts through the Ring app.
Alexa Integration: Pairing the Floodlight Cam Wired Plus with Alexa-enabled devices provides additional convenience. You can get audible speed alerts on the Echo device or watch live video on the Echo Show, Fire TV, or Fire tablet.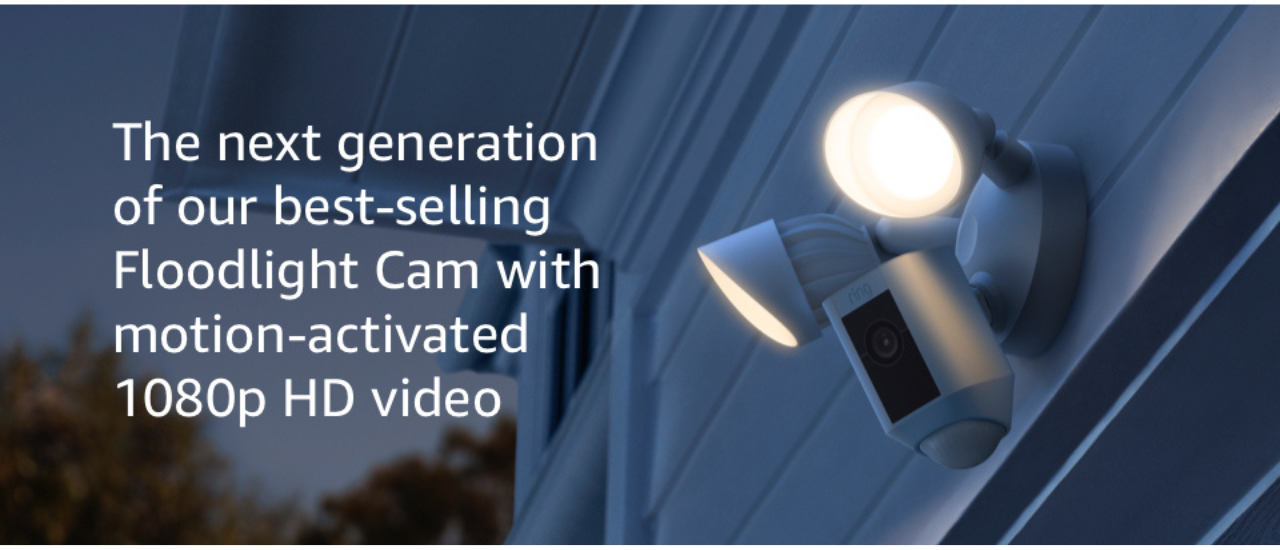 Technical Details
Average install time 15-25 minutes
Video 1080p HD, Live View, Color Night Vision
Field of view 140° horizontal, 80° vertical
Motion detection Advanced Motion Detection with Customizable Motion Zones
Audio Two-way audio with noise cancellation
Siren Remote-activated 105db siren (level measured at 4 inch/10cm distance)
Lights Two 3000° Kelvin with 2000 Lumen floodlights
Power Hardwired (110-240V)
Internet requirements Requires a minimum upload speed of 2 Mbps for optimal performance
Connectivity 802.11 b/g/n Wi-Fi connection @2.4GHz,902-928 Mhz Radio
Operating conditions -4°F to 122°F (-20°C to 50°C), Weather Resistant
Available colors White, Black
Mounting base Integrated mounting base with adjustable light and cameras angles. Mounts on 4 inch round weatherproof electrical box (not included)
Dimensions 11.7in x 7.03in x 9.67in (29.9cm x 24.6cm x 17.9cm)
Setup requirements 4 inch round weatherproof electrical box with AC power wiring
Generation Ring Floodlight Cam Wired Plus – 2021 release