Description
Amazon Fire TV Stick Lite, smart home controls, HD streaming with Alexa Voice Remote Lite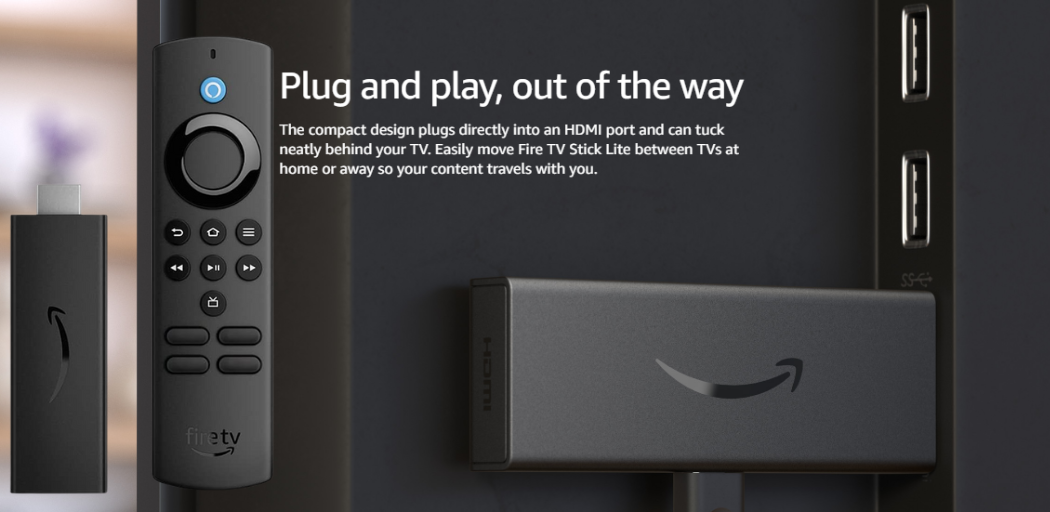 Experience the ultimate in-home entertainment with the Amazon Fire TV Stick Lite. This powerful streaming device lets you access a wide range of content in high-definition, bringing your favorite movies, TV shows, and apps to life like never before.

Not only does the Fire TV Stick Lite offer HD streaming capabilities, but it also comes equipped with smart home controls. Seamlessly integrate your smart home devices and take control of your lights, thermostats, cameras, and more, all from the comfort of your couch.

With its user-friendly interface and voice remote, navigating through your favorite shows and apps has never been easier. Simply use your voice to search for content, play, pause, or adjust the volume, making the entire experience effortless and enjoyable.

Upgrade your TV experience with the Amazon Fire TV Stick Lite and unlock a world of endless entertainment options, all in stunning HD clarity and with the added convenience of smart home controls. Stream, play, and explore a universe of content right at your fingertips.
amazon fire tv stick lite 2023
Amazon  Fire Tv Stick Lite Review: 
The Alexa Voice Remote Lite, included with the Fire TV Stick Lite, focuses on core functions and does not include TV controls, meaning it won't manage power and volume settings for your TV, soundbar, or receiver.
If controlling these features is essential to you, we suggest opting for the Fire TV Stick that comes with the Alexa Voice Remote featuring TV controls. For those seeking 4K streaming capabilities, the Fire TV Stick 4K is a recommended choice.
Experience fast and budget-friendly Full HD streaming with our most affordable Fire TV streaming stick. Enhance your entertainment with the included Alexa Voice Remote Lite, making navigating through your favorite content a breeze.
Perfect for newcomers – Dive into the world of streaming with ease and gain access to a vast library of over 200,000 free movies and TV episodes from popular ad-supported streaming apps like Freevee, Tubi, Pluto TV, and many others.
Embrace the power of voice with Alexa – With a simple press and voice command, effortlessly search and launch your favorite shows across various apps, streamlining your entertainment experience.
Effortless setup and discreet placement – Simply plug the Fire TV Stick Lite behind your TV, power on your TV, and connect to the internet to start the hassle-free setup process. Enjoy a seamless and hidden streaming experience.
Limitless entertainment awaits – Immerse yourself in a vast selection of over 1 million movies and TV episodes from popular streaming services like Netflix, Prime Video, Disney+, Peacock, and others. Additionally, enjoy access to millions of songs for an all-encompassing entertainment extravaganza.
Stay up-to-date with Live TV – Keep tabs on your preferred live TV, news, and sports content through subscriptions to leading services like SLING TV, YouTube TV, and more.
Immerse yourself in the world of music – Delight in your favorite tunes with Amazon Music, Spotify, Pandora, and various other music streaming platforms. Note that subscription fees may apply for some services.
Take charge of your smart home – Harness the power of Alexa to effortlessly control your smart home devices. Simply ask Alexa to check the weather, dim the lights, view live camera feeds, stream music, and accomplish even more with ease.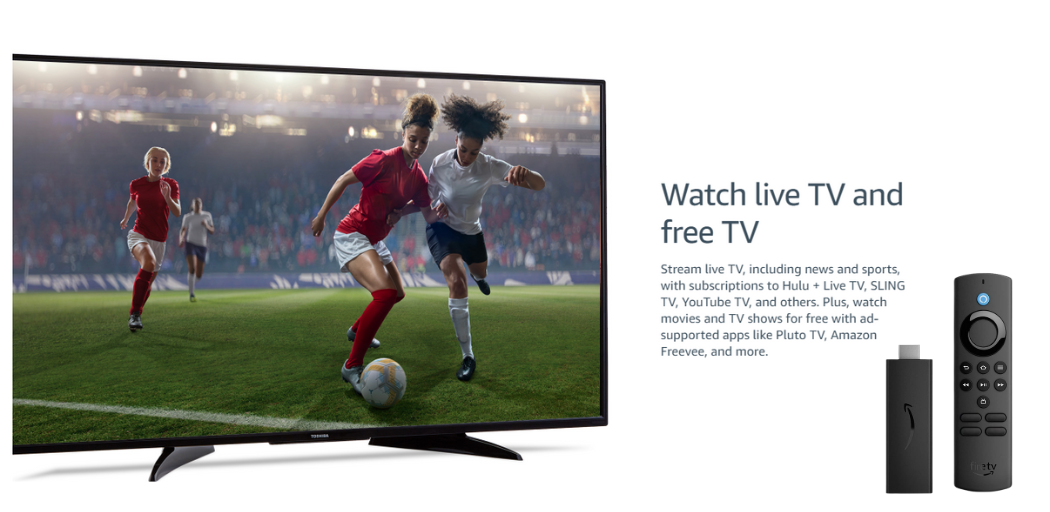 Technical Details: 
Size: 3.4" x 1.2" x 0.5" (86 x 30 x 13 mm)
Weight: 1.1 oz (32.0 g)
Processor: Quad-core 1.7 GHz
Storage: 8 GB internal
Wifi:
Enhanced Wi-Fi performance – Enjoy faster streaming and experience fewer dropped connections with the Fire TV Stick Lite's dual-band, dual-antenna Wi-Fi (MIMO) technology, surpassing standard Wi-Fi capabilities. It supports 802.11a/b/g/n/ac Wi-Fi networks for seamless connectivity.
Bluetooth:
Advanced Bluetooth capabilities – Equipped with Bluetooth 5.0 and Bluetooth Low Energy, the Fire TV Stick Lite allows effortless pairing with compatible Bluetooth speakers, headphones, video game controllers, and various other devices, enhancing your entertainment experience to the next level.
Voice support:
Absolutely! You can control the Fire TV Stick Lite using either the included Alexa Voice Remote Lite or the free Fire TV app, available for download on Fire OS, Android, and iOS devices.
Cloud storage:
Enjoy complimentary cloud storage – Rest assured that any digital content you purchase from Amazon is securely stored in the cloud at no additional cost.
Ports:
HDMI output, micro-USB for power only
Audio support:
Immerse in Dolby-Encoded Audio – Benefit from HDMI audio passthrough that supports Dolby-encoded audio formats, including Dolby Digital, Dolby Digital+, and Dolby Atmos, delivering an unparalleled audio experience.
Video content formats supported:
HDR 10, HDR10+, HLG, H.265, H.264, Vp9
Output resolution supported: 1
080p and 720p up to 60 fps
System requirements:
Requirements for High-Definition Streaming – To enjoy high-definition streaming, all you need is a high-definition television with an available HDMI input, an internet connection via Wi-Fi, and access to a power outlet for seamless entertainment.
TV compatibility:
Optimized for High-Definition TVs – The Fire TV Stick Lite is optimized for high-definition televisions with HDMI capabilities capable of 1080p or 720p at 60/50 Hz, ensuring an exceptional viewing experience.
Warranty and service:
Comprehensive 90-Day Limited Warranty – Your purchase of the Fire TV Stick Lite includes a 90-day limited warranty and service. For additional protection, U.S. customers have the option to purchase the Extended Warranty separately, with 2-Year and 3-Year options available. Please refer to the provided terms for the use of the Fire TV Stick Lite.
Content availability:
App and Service Disclaimer – Please note that certain apps and services offered on the Fire TV Stick Lite may be subject to change or withdrawal at any time. Additionally, availability may vary depending on your location and language preferences, and some apps may require separate subscriptions for access.
Accessibility features:
Enhanced Accessibility Features – The Fire TV Stick Lite offers a range of accessibility features to cater to diverse user needs. The VoiceView screen reader enables access to the majority of Fire TV features for users who are blind or visually impaired.

For viewers with visual challenges, the screen magnifier allows zooming in and panning around the screen, and the Text Banner consolidates on-screen text into a customizable, compact banner.

Enjoy Inclusive Viewing – Watch videos and TV shows with closed captioning displayed, and utilize Audio Description for verbal descriptions of on-screen actions, expressions, and scene changes.

Additionally – the Fire TV Stick Lite supports listening with compatible Bluetooth headphones. To learn more about accessibility for Fire TV, explore additional details on our website.

For existing Fire TV owners, visit 'Manage Your Content and Devices' for device-specific information.
Included in the box:
Fire TV Stick Lite, Alexa Voice Remote Lite (2nd Gen), USB cable and power adapter, HDMI extender, 2 AAA batteries, Quick Start Guide
Buy at amazon tv stick lite HERE