Description
Top best powerful Amazon fire tv stick, 4K Max streaming device, with Wi-Fi 6, Alexa Voice Remote.

Enhance Your Home Entertainment with the 2nd Generation Amazon Fire TV Stick: 4K Ultra HD Streaming Media Player & Alexa Voice Remote
Streaming Capabilities: The Fire TV Stick enables users to stream video and audio content from various online platforms, including Amazon Prime Video, Netflix, Hulu, YouTube, Disney+, HBO Max, and many more. It essentially turns a regular TV into a smart TV, allowing access to a vast library of movies, TV shows, and other content.
Compact Design: The Fire TV Stick is a small, thumb-drive-sized device that plugs into an HDMI port on your TV. It is powered either through the HDMI port or via a separate power adapter that comes with the device.
Remote Control: The Fire TV Stick comes with a dedicated remote control, which allows users to navigate through the interface, select content, play/pause, adjust volume, and perform other functions. Some versions of the remote also support voice commands through Amazon's virtual assistant, Alexa.
Alexa Integration: If your Fire TV Stick remote has Alexa support, you can use voice commands to search for content, control playback, and even perform various tasks like checking the weather, setting reminders, and more.
App Store: The Fire TV Stick has its own app store where you can download and install additional applications, games, and utilities to expand the device's capabilities.
Screen Mirroring: With certain Fire TV Stick models, you can mirror the screen of your smartphone, tablet, or computer onto your TV, allowing you to share photos, videos, and other content from your personal devices on the big screen.
Resolution and HDR Support: Depending on the version, the Fire TV Stick supports various resolutions, including Full HD (1080p) and 4K Ultra HD, as well as High Dynamic Range (HDR) formats like HDR10 and Dolby Vision, providing improved color and contrast for compatible content.
Storage: The Fire TV Stick has its own internal storage to store apps and some data. However, it's not designed for extensive storage, and Amazon primarily intends it to be a streaming device rather than a local media player.
Updates: Amazon regularly updates the Fire TV Stick's operating system to improve performance, add new features, and enhance security.
Accessories and Variants: Amazon offers various versions of the Fire TV Stick, including standard models, 4K models, and occasionally special editions with unique designs or bundled content. Additionally, there are optional accessories like an Ethernet adapter to connect via wired internet.
Overall, the Amazon Fire TV Stick is an affordable and convenient way to access a vast array of streaming content on your TV, making it a popular choice among cord-cutters and those seeking an easy-to-use streaming solution.

Technical details: Amazon Fire TV Stick with 4K Ultra
Size: The dimensions of the housing for the device are 99 mm x 30 mm x 14 mm. When including the connector, the overall dimensions of the device are 108 mm x 30 mm x 14 mm.
Weight: 48.4 g
Processor: Quad-core 1.8GHz MT8696
Storage: 8 GB
Wifi: MT7921LS. Supports 802.11a/b/g/n/ac/ax (Wi-Fi 6) networks
Bluetooth: The device features Bluetooth 5.0 + LE, allowing you to effortlessly pair it with compatible Bluetooth speakers, headphones, video game controllers, and other compatible devices.
Voice support: You can control the device using the included Alexa Voice Remote or the free Fire TV app, which is available for download on Fire OS, Android, and iOS platforms.
IR device control with included Alexa Voice Remote:The Alexa Voice Remote provided with the Fire TV Stick 4K Max offers control over the device itself and can also manage specific functions like power and volume on a variety of compatible IR-enabled devices, including TVs, soundbars, and A/V receivers. However, please keep in mind that certain functions might not be available on some IR-enabled devices.
Cloud storage: You'll receive complimentary cloud storage for any digital content bought from Amazon.
Ports: HDMI ARC output, micro USB for power only
Audio support:The device supports Dolby Atmos, 7.1 surround sound, 2-channel stereo, and HDMI audio pass-through up to 5.1. Dolby Atmos is accessible on specific Netflix, Prime Video, and Disney+ titles when connected to compatible equipment.
4K Support:For 4K Ultra HD movie and TV show viewing, a compatible Ultra HD TV is required. Please note that not all services may offer content in 4K/HDR. Some services are subject to change without notice, might not be accessible in all regions or in 4K/HDR, and could necessitate separate subscriptions. To learn more about the available services, refer to additional information.
Content formats supported:Video: Dolby Vision, HDR 10, HDR10+, HLG, H.265, H.264, VP9, AV1 Audio: AAC-LC, AC3, eAC3 (Dolby Digital Plus), FLAC, MP3, PCM/Wave, Vorbis, Dolby Atmos (EC3_JOC), Photo: JPEG, PNG, GIF, BMP
output resolution supported: 2160p, 1080p and 720p up to 60 fps
System requirements:To use the device, you'll need a high-definition television with an accessible high-speed HDMI input and a high-speed internet connection via Wi-Fi. For Wi-Fi 6 support, a Wi-Fi 6 router is required. Additionally, the HDMI 2.1 standard includes Auto-Low Latency Mode.
TV compatibility:For protected content playback, your TV must meet the minimum HDCP requirements. The device is compatible with two types of TVs:
4K UHD TVs with HDMI supporting 2160p at various frequencies (24/25/30/50/60 Hz) and HDCP 2.2, or
High-definition TVs with HDMI supporting 1080p or 720p at 50/60 Hz. For further information on high-definition capabilities, you can explore more details.
 Warranty and service:The device comes with a 1-year limited warranty and service included. U.S. customers have the option to purchase a separate 2-year or 3-year extended warranty. Please note that the use of Fire TV is subject to the terms outlined here.
Content availability:Some apps and services may change or be discontinued at any time. Availability in specific areas and languages may vary, and certain apps may require separate subscriptions.
Accessibility features:The VoiceView screen reader allows blind or visually impaired users to access the majority of Fire TV features. Closed captioning is available for watching videos and TV shows, though it may not be present for all content. Additionally, you can enjoy Fire TV content using compatible Bluetooth headphones. For more information about compatibility, please refer to additional details.
Included in the box:The package includes the Fire TV Stick 4K Max, a 3rd Gen Alexa Voice Remote, USB cable, power adapter, HDMI extender cable for Fire TV Stick 4K Max, 2 AAA batteries, and a Quick Start Guide.
Software Security Updates:
The device is assured to receive software security updates for a minimum of four years after its last availability for purchase as a new unit on our websites. For further details on these software security updates, you can find more information. If you currently own a Fire TV, you can visit "Manage Your Content and Devices" for device-
specific information
.
What is the difference between Firestick 4K Ultra HD and 4K Max?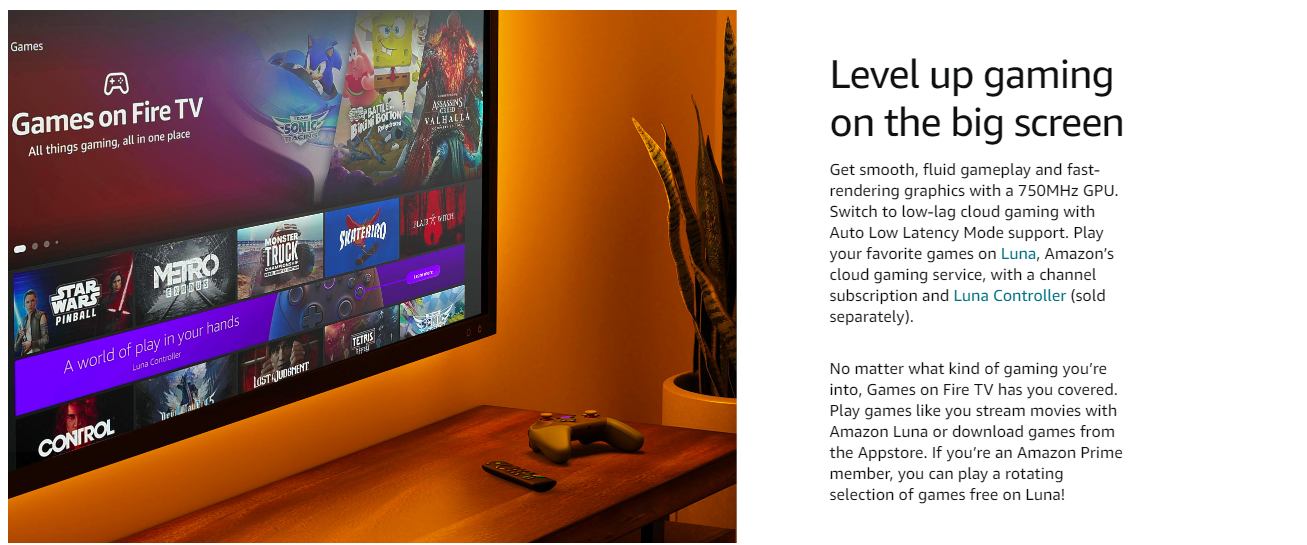 As of my last knowledge update in September 2021, there was no specific "Firestick 4K Max" model. However, Amazon might have released new products or updated their lineup since then. I recommend checking the official Amazon website or other reliable sources to find the latest information on their Fire TV Stick models.
In general, when comparing different models in the Fire TV Stick 4K lineup, the differences may include:
Processing Power: Newer models may have more powerful processors, leading to improved performance and faster navigation through the interface.
Software Updates: The newer models might receive software updates for a longer duration, ensuring better security and access to new features.
Wi-Fi Connectivity: Some newer models may support the latest Wi-Fi standards, such as Wi-Fi 6, providing faster and more reliable wireless connections.
Alexa Voice Remote: The included remote might differ in design or have additional features like dedicated buttons for popular streaming services or device controls.
HDR and Audio Support: The latest models may support more advanced HDR formats like Dolby Vision and enhanced audio capabilities.
Storage Capacity: The internal storage size might vary between models, allowing you to store more apps or content locally.
Design and Form Factor: The physical design of the device and its form factor might be updated for aesthetic or functional purposes.
Since product offerings can change over time, it's essential to refer to the official product pages or credible reviews to get accurate and up-to-date information about the specific differences between the Fire TV Stick 4K Ultra HD and any newer models like the "4K Max," if it exists.
Amazon Fire TV Stick with 4K Ultra Buy on Amazon HERE