Description
Maximize your entertainment with the KD3 Android TV Stick: a seamless streaming experience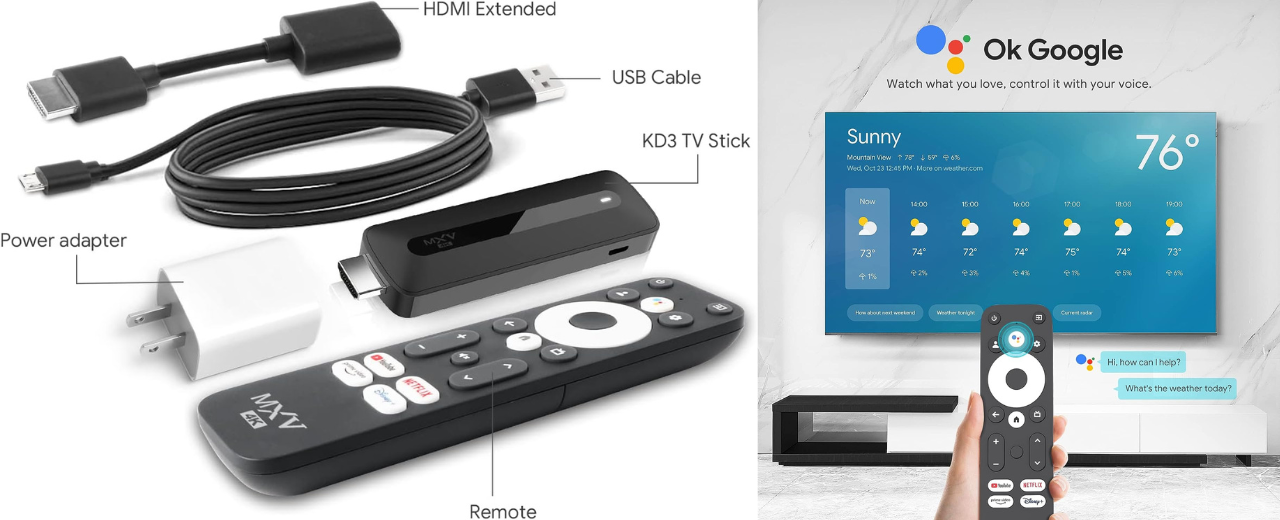 Android TV Stick:
An Android TV Stick is a small device that connects to your TV through an HDMI port and runs the Android TV operating system. It essentially turns your regular TV into a smart TV, allowing you to stream content, use apps, play games, and more.
What does a TV stick Android mean?
An Android TV Stick: Often referred to as an Android TV Stick or Android TV Box. It is a small electronic device that runs on the Android operating system, and is designed to connect to a television's HDMI port It essentially turns a regular TV into a smart TV. which allows users to access a wide range of digital content and services on their television screens.
TV Stick Android: functions ofand features
Streaming: One of the primary functions of a TV Stick Android is to enable streaming of online content. Users can access streaming platforms like Netflix, Hulu, Amazon Prime Video, YouTube and more directly on their TV screen.
Apps and Games: TV Stick Android devices bring the Google Play Store to your TV, offering access to a variety of apps and games just like your Android smartphone or tablet.
Media Playback: The TV Stick can play a wide range of media formats including videos, music and photos stored on Android external storage devices or network drives.
Mirroring and Casting: The device often supports screen mirroring and casting from compatible devices like smartphones and tablets. It enables users to display content on the TV screen from their mobile devices.
Voice Control: The TV Stick Android device comes with a remote control, which features voice search capabilities. Makes it easy for users to find content by stating their search queries.
Customization: Users can customize the interface and layout of their TV Stick Android as per their preference. App can rearrange widgets and shortcuts.
Overall, [TV Stick Android] provides an affordable and convenient way to bring smart TV capabilities to a regular television. Offers access to a wide range of digital entertainment and online services
.

KD3 Android TV Stick:  About
【Google Certified】Experience the KD3 TV Stick: Unlock a world of entertainment with Google certification, Google Assistant, Chromecast built-in, and 4K HDR support. Immerse yourself in 4K Ultra HD video and dynamic sound enhanced by Dolby Atmos Enjoy many streaming options including Prime Video, Youtube, Disney+, NOW, RaiPlay, DAZN, Spotify, and Infinity. Access a wide variety of apps and games through Google Play. all available to enjoy in the glory of your TV screen With Google TV enjoy the freedom to watch and play what you want.
[Advanced Connectivity: Dual-Band Wi-Fi & BT 5.0] Elevate your entertainment experience with the KD3 Google OS TV Stick, featuring dual-band Wi-Fi 5 connectivity (2.4G+5G), BT 5.0 and a 100M LAN network option. Seamlessly switch between dual 2.4G and 5G WiFi to meet your specific needs.
【Powered by Google Voice Remote】Empower your TV experience with our state-of-the-art remote control featuring Google Assistant. Engage in voice conversations and oversee your daily tasks effortlessly. Just activate Google Assistant with the dedicated button on the remote. Effortlessly search, launch and control content playback using the power of your voice Enjoy direct access to platforms like YouTube, Disney+, Prime Video and Google Play at the touch of a button
【Enhance with Google Voice Control】Enhance your TV journey with our advanced remote embedded with Google Assistant.  A single press on the remote's dedicated Google Assistant button activates an array of possibilities. Effortlessly launch searches and navigate content playback using the simplicity of voice commands. Expand your control with instant access to platforms like YouTube, Disney+, Prime Video and Google Play.
【Dedicated Customer Care】Our commitment to service is unwavering. We offer personalized customer assistance to every client. If you have any questions, feel free to reach out. Our team will promptly address your concerns within business hours. We eagerly await the chance to swiftly resolve any issues.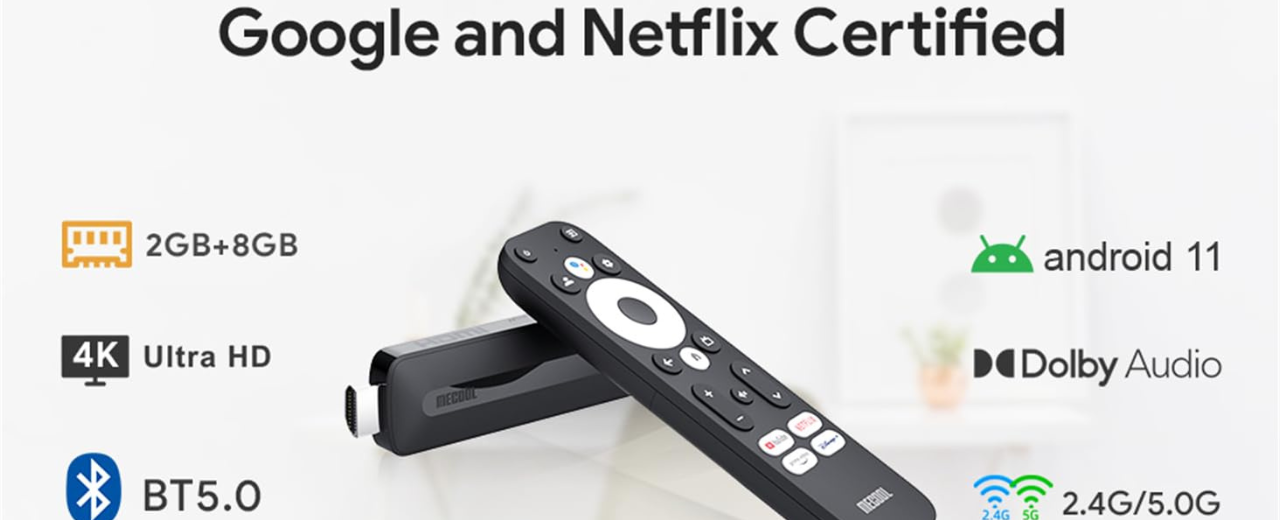 Product information
Brand Name ‎mecool
Item Weight ‎0.085 ounces
Product Dimensions ‎35 x 18 x 3 inches
Item model no ‎KD3
Color ‎Black
MECOOL KD3 TV Stick
Brand MECOOL
Model KD3
Physical Size 92.5*29.5*14.5 mm
Packaging size 133*35*165mm
Supply Voltage 110-240V
Frequency 50-60Hz
RAM and ROM 2GB+8GB
Resolution 4k HDR Support
Controller Type Remote, Voice (Google Assistant)
System Google TV
WiFi 2.4/5GHz. Supports 802.11a/b/g/n/ac wifi networks.
Bluetooth  5.0