Description
Kodak Slide N Scan Digital Film Scanner 7″ Max

Elevate Memories with the Kodak Slide N Scan Digital Film Scanner 7″ Max.
Unveil the power to transform your 35mm, 126, and 110 negatives, slides, and films into striking high-resolution 22MP JPEGs. Immerse yourself in the past through the convenience of this advanced scanner.
Revel in Visual Splendor:
Witness your memories come to life on the expansive 7″ LCD screen, boasting a wide display that captures every detail. The integrated slide digitizer adds an extra layer of versatility to your scanning experience.
Introduction to the KODAK Slide N SCAN Digital Film Scanner.
The KODAK Slide N SCAN Digital Film Scanner is a specialized device designed to digitize and convert various types of film negatives, slides, and films into digital formats. This scanner is specifically tailored to handle [35mm, 126, and 110 film] formats, commonly used for capturing images in the past. By using this scanner, you can transform your analog memories into digital files that are easier to store, share, and view on modern devices. For more details Click Here.
Key features of Kodak Slide N Scan digital film scanners typically include:
Compatibility: The scanner is equipped to handle various film formats such as [35mm, 126, and 110 negative], slides, and film.
Resolution: It offers high-resolution scanning, often around [22MP megapixels] or higher, to capture details and maintain image quality during the conversion process.
LCD Screen: Scanners usually have an integrated LCD screen, 7 inches in size, that allows you to preview and adjust scanned images in real-time.
One-touch operation: Scanners often feature easy-to-use buttons or touch controls to initiate and adjust the scanning process.
Slide Digitizer: Some versions come with a slide digitizer, which means you can view slides directly on the LCD screen without the need for a separate projector or screen.
In short, the Kodak Slide N Scan digital film scanner is a versatile tool. which allows individuals to easily convert their analog film negatives, slides and films to digital format. It enables storing and sharing old memories using modern technology.
.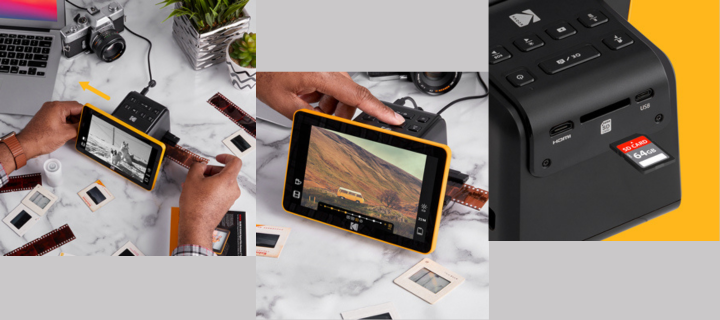 About This Item:
Preserve old photo memories: 13/22MP digital film scanner lets you view, edit and convert your old color and B&W negatives [135, 110, 126mm] and 50mm slides [135, 110, 126mm] into digital files and Allows saving directly to SD.
7" LCD DISPLAY WITH GALLERY MODE: Features Large, Crystal-Clear Screen with Wide Viewing Angle for Constantly Reviewing and Editing Photos |
Convenient Easy-Load Film Insert: Quick-feeding tray technology makes continuous loading action, scanning faster and easier! Includes 50mm slide holder, adapter for 135, 110 and 126 film, cleaning brush and USB cable.
One-touch editing: Advanced capture software enhances, resizes and converts photos with a simple 'scan' button. There are no complicated screens or settings. Simple options let you choose movie type, adjust color/brightness and set date/time.
Super chic UBER COMPATIBLE: The device handles all your old slides and negatives, supports SD or SDHC cards up to 32GB any Type-C USB-enabled. The gorgeous design blends seamlessly with your home decor.
Product information
Product dimensions: 2.83 x 2.19 x 2.07 inches
Item weight: 1.69 lbs
ASIN: B0B3F6KJJ2
Item model No: RODFS70
Customer review: 4.2 out of 5 stars 293 ratings 4.2.
Best Sellers Rank: #10,528 in Office Products [See Top 100 in Office Products]
#3 in slide and negative scanners
Date first available: June 7, 2022
Manufacturer: Kodak